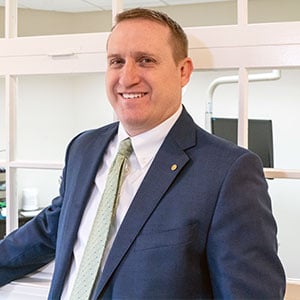 Education
Dr. Beckstrom graduated from the University of Utah with a BS in Medical Biology and Chemistry.  After college graduation he and his wife Nicole moved to Louisville, KY to begin his dental training at The University of Louisville School of Dentistry where he graduated with honors in 2002.  Following dental school Dr. Beckstrom completed a one-year residency in advanced dental and hospital dentistry at the University of Louisville Hospital. He then completed his orthodontic residency and received a Masters Degree in Oral Biology in 2005.
Orthodontic Practice
Dr. Beckstrom successfully practiced in his hometown of St. George, Utah for ten years prior to relocating to Ohio.  He is thrilled to have the opportunity of practicing orthodontics in Vandalia and Troy and loves coming to work every day.  His favorite part of orthodontics is interacting with his patients and staff, especially meeting interesting new people and hearing their story.  He also loves the scientific and artistic process of creating healthy, beautiful smiles.
Continuing Education
The field of orthodontics is always evolving and changing.  Dr. Beckstrom enjoys the process of learning and every year completes three times the required amount of continuing education credits required by the state.  It's important to him that his patients have their choice of the latest techniques and technology. He's committed to ensuring beautiful results, delivered with the maximum comfort possible.
Personal and Family
Dr. Beckstrom and his wife Nicole have been married 25 years and are the parents of two teenage boys.  Outside of work he enjoys spending time with his family, traveling, hiking, snow skiing, golfing, playing tennis and basketball, watching college sports, and attending local events.  He is also active in his local church.